TÜSİAD Academia
The principle objective of the University Partnership Forums is to establish a series of platforms to conduct research projects at an international standard and collaborate with related research centers in foreign countries with the aim of supporting TÜSİAD's research and opinion-forming process with academics and scientists, building more effective cooperation with universities, and enabling young academics to gain experience in their applied fields.
In this framework; the "Foreign Policy Forum" on international relations was set up in conjuction with Boğaziçi University, the "Competitiveness Forum" was established with Sabanci University to cover the concept of competition and the "Economic Research Forum" devoted to micro and macroeconomic research was established with Koç University.
The Forums share their research and comparison studies with the public opinion by means of briefing activities, seminars, panels and conferences.
Özyeğin University – TÜSİAD Sustainability Platform - SKF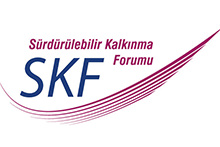 Özyeğin University – TÜSİAD Sustainable Development Forum (SKF) was established on April, 6th 2017 with the cooperation of Özyeğin University and TÜSİAD. The Forum will conduct activities to follow the global agenda of sustainable development, contribute to the policies that can ensure the sustainability of development, and support the transformation of the business world within this respect.
Sabanci University - TÜSİAD Competitiveness Forum (REF)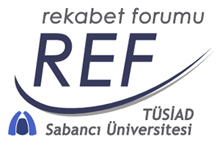 The Forum was established with the aim of conducting research on competitiveness, productivity, technology management and benchmarking in order to enable the Turkish private sector to acquire a lasting market share in international markets during the process of globalization and integration to the European Union
Koç Unversity - TÜSİAD Economic Research Forum
The Forum was established with the aim of conducting research in the fields of micro and macroeconomic policies to enable Turkey to develop in a balanced manner and in an environment of sustainable growth. Scientifically-based research devoted to generating policies relevant to the Turkish economy is conducted in the framework of the Forum's activities