TÜSİAD, Berlin Bosphorus Initiative (BBI) and Mercator Stiftung, organized the 5th edition of "Turkey-Europe Future Forum" training program in Istanbul and Eskişehir between July 07-14.
The forum, which was founded in 2015 to develop common understanding between young leaders from numerous sectors in Europe, is co-presided by Ruprecht Polenz, Former President of the German Parliament Foreign Affairs Committee (2010-2013) and Ümit Boyner, Vice President of TÜSİAD High Advisory Council and Boyner Holding Board Member. In addition, Federica Mogherini, the High Representative of the EU for Foreign Affairs and Security Policy supports the Forum.
31 young experts between the ages of 25-38 from Turkey, Germany and several countries in Europe, participate in the training program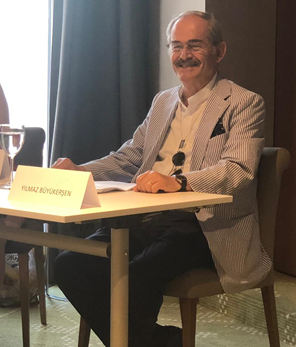 The goal of the program is to establish a platform which would enable these young leaders to analyze Turkey-European Union
The main theme of this year's Forum was "Turkey and the EU: Overcoming Common Challenges and Bilateral Tensions"
Accordingly, current economic, social and political trends such as France and Germany's European Union policies and reform suggestions, anti-globalization movements in the world and in Europe, the future of Turkey-EU relations and constructive contribution towards the integration process were addressed.

In this context, President of TÜSİAD German Network in İstanbul and CEO of Siemens Turkey Hüseyin Gelis, German Consulate General in Istanbul Michael Reiffenstuel, Sabancı University Faculty Member Prof. Bahri Yılmaz, Corporate Affairs Coordinator of Koç Holding Ali Utku Atalay, Bilgi University Faculty Member Prof. Halil Nalçaoğlu, Boğaziçi University Faculty Member Assoc. Prof. Bülent Küçük, Journalist Murat Yetkin, Music Director of the Turkish National Philharmonic Youth Orchestra Cem Mansur and Kadir Has University Faculty Member Prof. Sinem Akgül Açıkmeşe made remarks on the subject. Furthermore, Hrant Dink Museum, Young Entrepreneurs and Executives Association, and Istanbul Bar Association were visited.
At the Eskişehir leg of the Forum, meetings with ESIAD President Aydın Bandırma and Vice President Kenan Işık, Eskişehir Osmangazi University Faculty Member Ali Onur Özdemir, and Tepebaşı Municipality officials were organized. Furthermore, a roundtable meeting was organized with the participation of Mayor of Greater-Eskişehir Municipality Yılmaz Büyükerşen.
During the dinner which featured Executive Board Member and Chief Executive Officer of TÜSİAD Dr. Bahadır Kaleağası as the keynote speaker, the future of Turkey-EU relations and the EU digital transformation agenda were addressed.
Mercator Stiftung is one of the biggest private foundations in Germany. Mercator has concrete goals regarding integration, climate change, art education and other thematic areas. It plans to achieve these goals through socio-political advocacy and practical applications. Stiftung Mercator is conducting its own projects at their centers of International Programmes, Science and Humanities, and Education. The foundation also supports outside projects and brings an entrepreneurial, professional and international approach to these studies.
BBI - Berlin Bosphorus Initiative
Berlin Bosphorus Initiative, founded in Berlin in 2013 by TÜSİAD, is an initiative which aims to develop economic relations between Turkey and Germany, increase civil society dialogue and enforce socio-political relations between the two countries.