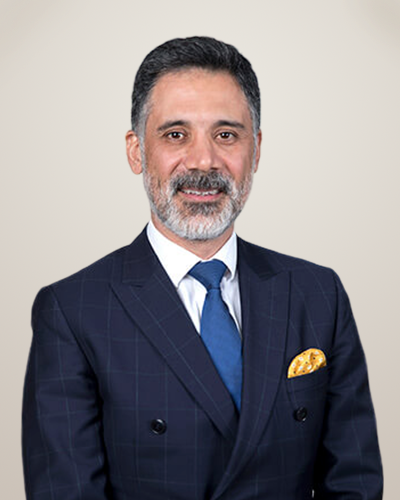 Born in Ankara in 1969, Mr Gümüşlüoğlu graduated from Ankara Atatürk Anadolu High School and then went on to study Business Management at Bilkent University. Mr Gümüşlüoğlu continued his studies in the USA, at New Hampshire College and Harvard University, earning himself an MBA and a Direct Marketing certificate respectively.
Mr Gümüşlüoğlu began his professional career at American Frozen Foods in the USA. Later on, he returned to Turkey to work for Nestle, the world's largest food company. Throughout his experience at Nestle; he embarked on various managerial responsibilities not only in Turkey but also across countries such as the USA, Azerbaijan, Egypt and France. Following Nestle, for a short period of time, he took over Commercial Operations Vice Presidency role at Yaşar Holding. Later in his career; Mr Gümüşlüoğlu joined Zyman Core Strategy Group, one of the most important Marketing and Management consultancy firms in the USA, where he successfully lead Turkey and the Middle East operations up until 2012 before joining Ferrero Group. Mr Gümüşlüoğlu currently serves as General Manager of Turkey and Regional Director at Ferrero Group.
In the past, Mr Gümüşlüoğlu has served on the boards of both local and International Advertiser's Association, while currently, he is a board member of the Italian Chamber of Commerce in Turkey. As of February 2019, he has been appointed as VP of Investment Environment Roundtable of the Turkish Industry & Business Association (TUSIAD).