Corporations & Collaborations
The Brookings Institute

The Brookings Institution is a nonprofit public policy organization based in Washington, DC. Its mission is to conduct high-quality, independent research and, based on that research, to provide innovative, practical recommendations on the American democracy; the economic and social welfare, security and opportunity of all Americans; and a more open, safe, prosperous and cooperative international system.
TÜSİAD has had a joint Turkey program with Brookings since 2007 to explore the possibilities of mutual cooperation between Turkey and US alongside with events to elaborate Turkey's political and economic dynamics in a comprehensive way. In 2013 "TUSIAD U.S. -Turkey Forum at Brookings" is established for a period of ten years. The aim of this partnership is to develop and deeply assess Turkey-US political, economic and social relations.
German Marshall Fund (GMF)

The German Marshall Fund of the United States (GMF) strengthens transatlantic cooperation on regional, national, and global challenges and opportunities. As a non-partisan, non-profit organization, GMF maintains a strong presence on both sides of the Atlantic.
TÜSİAD has been a partner to the Trilateral Strategy Group organized by GMF alongside with the support of the Ministry of Foreign Affairs of Sweden and Koç Holding since 2009. This platform constitutes one of the basic trilateral dialogues among the US, the EU and Turkey and handles the common problems from a transatlantic perspective.
The St. Petersburg International Economic Forum (SPIEF)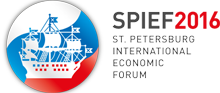 The St. Petersburg International Economic Forum (SPIEF) is a leading international economic and business forum held annually in Russia. The St. Petersburg International Economic Forum was established in 1997. Since 2006 SPIEF is held under the patronage of the President of the Russian Federation. Over the past six years the Forum has transformed into a leading global business event, attracting over 5000 Russian and international participants, representing government and business leaders from around the world, joined by leading voices from academia, the media, and civil society. SPIEF gathers the world's leading decision makers to identify and deliberate the key challenges facing emerging markets and growth economies, Russia and the world, and engage communities to find common purpose and establish frameworks to forge solutions.
TUSIAD, being the only "Regional Partner" of SPIEF from Turkey, is committed to this cooperation as it will provide the business communities of both sides with new instruments and fields of cooperation.